Kei at Glance
On the outer rim of southern Indonesia, much closer to Darwin than Jakarta, the 100 or so Kei islands are edging on to the visitor horizon. Best known for the snowy white Pasir Panjang beach, said to be one of the best in the country/world depending on guide book, they can give you the ultimate tropical idyll if you just want to chill. But they have a lot more to offer – rain forest, African style bush, soaring peaks and man friday atolls, as well as a buzzy harbour town.
The islanders have their own language and culture plus a long history of overseas links. Local blends of the traditional and cosmopolitan produce quite distinct villages, and even islands. Part of the old Spice Islands, we think Kei is Indonesia in microcosm.
About Ohoililir
The guidebooks will have given you the basic background to Kei – an archipelago centred on Kei Besar (Big Kei), Dullah and Kei Kecil (Little Kei), The main towns, Tual and Langgur are joined by a bridge over the channel between Kei Kecil and Dullah, You are on Kei Kecil about 10 km west of Langgur.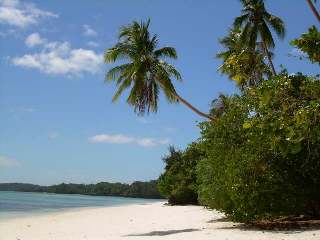 Ohoililir village has a population of about 300, a school, a few small 'kios' shops, an active Catholic Church and a strong sense of community and tradition (adat) Most people are fishermen and/or farmers and some work in Tual/Langgur.
A monument of the symbol of three
families living (Letsoin, Yamlean & Ohoiwutun) in the Village
Part of the village's sense of identity is down to its association with one of the historic kings (rajahs) of Kei. Legend has it that the princesses of old used to bathe in the spring just behind the Old Cottage (see separate storyline elsewhere on the noticeboard).
Other than locals you should have the beach pretty much to yourself during the week. However, at weekends, especially Sundays, it is a popular picnic place with people from town and the village caters for them by setting up warungs selling drinks and snacks.