Getting around
Getting There
Air
As of Janauary 2023 the number of flights per day to Kei is down to one (Lion Air), but on a much bigger plane (with jet engines even) which means you can get back to Makassar, Bali or Jakarta in a day as well as to Ambon. You can book online. There are also flights Langgur - Aru.
Ferry
The Pelni and Perintis ferries still run including an Ambon-Banda-Tual connection which is again becoming popular with budget travellers (and is a great way to amke the trip). There are also ferries to Kei Besar and Aru - ask Bob


Transport in Kei
Where is Pasir Panjang…
. on your trip from the airport some of you may unfortunately discover that Pasir Panjang is the name of a village with a dodgy karaoke bar at the south end of the beach with same name. Coaster Cottages are also on Pasir Panjang beach but at the north end near Ohoililir village (kampong). Tell your driver that you want to go to Coaster Cottages, Ohoililir. Neither should be confused with Savanah Cottages at Ohoidertahun, delightful though they are (we sometimes arrange twin centre holidays – how sophisticated is that…).
Local transport Johannes can organise local transport - typically an ojek to Tual/Langgur is R60,000 return, 30/35,000 one way and ojek transfer to the airport is around Rupiah 100,000. Taxi to town costs around Rupiah 150,000 one way - waiting time and return price by negotiation. Airport taxi transfer organised through Coaster is 275,000.
We also organise trips / excursions to places of interest around the island like Hwang Goa (Bat Caves), Evu Waterfalls, Ohoidertutu beach, Masbait/Calvary Hill, Perek Beach, Dullah and Bair island - single/solo travellers may find it best to do these by ojek and groups should find it better to share a taxi eg all in cost to Bair Island with a taxi and including the boat is Rupiah 1,300,000. Boat/snorkelling trips out to Snake island with stops en route are R1,500,000 including entrance fee, which can be shared among 5 or 6 adults. Similarly, a boat trip to Ngaf, Er and Godan islands is 1,000,000 for the same number. Tell Tutty/Johannes the day before if you want a picnic lunch.
Coaster – Calvaria - Debut - Goa Hawang – Evu – via East Coast Ohoidertutu or Matwaer - Coaster.
This is a full day trip requiring an early start. We suggest taking a picnic lunch as there are no rumah makan in the south of the island. The trip includes Kei Kecil's main attractions. Ohoidertutu beach is particularly dazzling – no reef so when the wind is right it should be possible to surf: be the first on Kei.

Round Dullah
Coaster – Dullah – Coaster. This is a three-four hour trip taking in the distinct muslim villages of Dullah, Kei's new industrial park (more interesting than it sounds), beaches and inlets and the forest/bush of the east coast. Picnic lunch recommended.


Ojek (motor bike with driver)

These are very handy if you are on your own. Prices are negotiable and they are also the only way to see many places 'off the beaten track', not least the Wap peninsula - the long finger of land which is only just and so joined to the west coast of Kei Kecil, and still in pretty much pristine condition. The trip to Wap involves either a ferry from Debut or crossing a couple of rather dodgy bridges where locals exact Rp 5000 tolls.

if they can, you can.....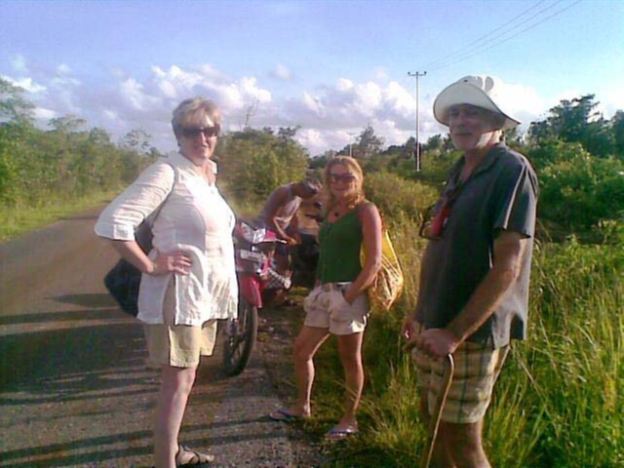 Motorbike hire

Kei's roads/traffic are a challenge even for experienced riders - we are not responsible for accidents etc. Also note that bike hire in Kei operates on a 'you bend it, you mend it' principle and some quite extortionate claims have been made on guests who have had the misfortune to ding a bike. That being said, if you want to hire ask Johannes/Bob. Price typically Rp 100.000 /day.

Public Bemo
Afraid we are down to one public bemo a day Ohoililir-Langgur-Ohoililir: around 7am from the village football pitch by the beach return from Langgur market terminus around 2.00 pm - R10,000 each way. There are local bemo connections to/from the Terminal to Tual.


Langgur Bemo Terminal