Coaster Cottages
About Coaster Cottages
The Cottages were Kei's first beachside guesthouse, set up nearly thirty years ago to give visitors a chance to enjoy Pasir Panjang and provide a comfortable, seaside base for exploring the rest of the archipelago. A few steps down from your room and you're in the water, but just high enough above it to catch the breeze and those famous panoramic views and sunsets.

The Cottages are organized through a partnership between the village, local business and a couple of europeans. They are run under the general direction of BOB (bob.azyz@yahoo.co.id) with day to day management by Johannes Letsoin. He and his wife Tutti and their staff provide authentic Kei home–cooking, plus Indonesian classics, in substantial portions. The rooms are spacious (from 20 sq m to over 30 sq m) and airy (they also have fans) with sprung mattresses, en suite mandis and their own verandhas overlooking the beach. .
Pasir panjang looking
south from Coaster …. and looking north….
We try to run the Cottages as sustainably as we can – to us that means as part of the local community, economy and environment. One way or another, what you spend stays here in Kei, almost all in our village, Ohoililir. Please respect these views – don't mess up the forest and sea life, help us recycle as much rubbish as possible and be civil with the local people. They are used to visitors, genuinely pleased to meet you and what may seem to be reserve is actually politeness. Having a little Indonesian will help along the process of getting to know each other but isn't essential. An interest in football is also useful.

The Cottages are about 500m through the coconut grove from Ohoililir village, which in turn is about 10 km west of the main town, Langgur/Tual. The village has a school, a few small 'kios' shops, an active Catholic Church and a strong sense of community and tradition (adat) Most people are fishermen and/or farmers and some work in the town.

Part of the village's sense of identity is down to its association with one of the historic kings (rajahs) of Kei. Legend has it that the princesses of old used to bathe in the spring just behind the Old Cottage.
…..through the coconut grove to Coaster….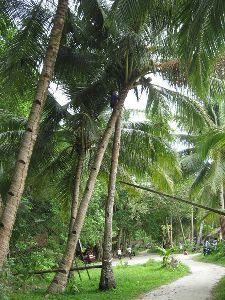 Other than locals you should have the beach pretty much to yourself during the week. However, at weekends, especially Sundays, it is a popular picnic place with people from town and the village caters for them by setting up warungs selling drinks and snacks.
Ohoililir Village
The footy pitch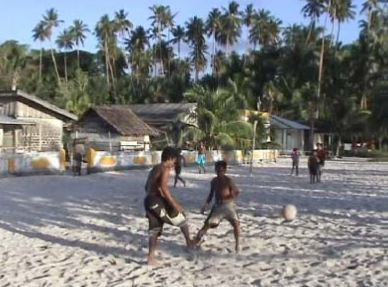 The 'Warung' (except Sundays)
Registration

On checking in, Coaster staff will ask foreigners to fill in a registration "A" Form (this is a legal requirement for new visitors to the island), make a photo-copy of the 'photo page' and 'visa page' of your passport and arrange for these to be forwarded to the police. Very occasionally it may be necessary to visit the Tual police station in person. Unless you have visa problems this is not a big deal – it is just so they know your face.

Tariff
•The New Cottage/COASTER 2: Rp 250,000 room/night (tax included)

•The Old Cottage: Rp 165,000 room/night (tax included)
•The Doctor's House (owned by Miss Penny but managed by Coaster) Rp 250,000/night (tax included)
• Penny's House (owned by Miss Penny but managed by Coaster) Rp 350,000/night (tax included)

These prices are for one or two persons/room. Additional adults subject to surcharge (and availability of mattress). 10 % discount for stays of 7-10 days, further discount by negotiation for longer stays.

Check out 10.00 am on morning of departure
It may be possible for arrangements to be made to sleep on the verandah if big parties don't want to be broken up – ask Johannes.

Coaster 2
Four double/twin rooms (7 x 4.5m), en suite mandis, spring mattresses, fans, windows on three sides, big verandha overlooking the beach including sitting out/dining area.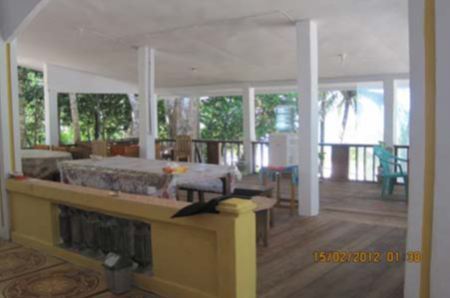 Rupiah 250,000
The Old Cottage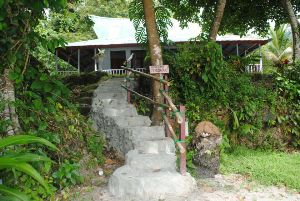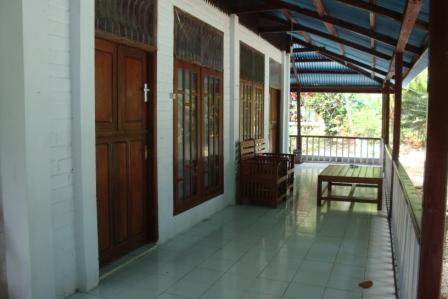 A traditional house with two twin/double rooms (about 4.5m x 5.5m), sprung mattresses, triple aspect windows, fans, en suite mandis and big verandha on all sides.
Rupiah 165,000

The Doctors House
The oldest of the cottages, owned by Miss Penny but managed by Coaster. For those who like the simple life away from it all (about 150m from the dining room). One large (about 6 x 6 m) double room with en suite mandi, sprung mattress, windows on all sides, token air con, elderly fridge, water dispenser, a very big verandha, its own handball court and pondok.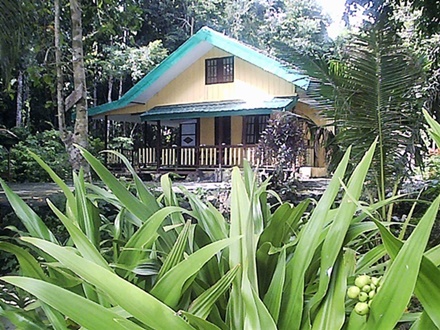 Rupiah 250,000
Penny's House
A new wooden house of 9 x 9 meter with one big room and a private bathroom, 2 beds (king & queen size) with sprung mattresses, mosquito nets, fan and its own fridge and water dispenser.
It has a large verandah ( 3 x 9 meter ) facing the sea and about 20 meters from the beach.
Rupiah 350,000
Food
Our standard tariff is Rp 135'000.- per person for breakfast, lunch and dinner plus coffee/tea facilities (January 2023).
•Please tell the kitchen staff or Tutty if you do not want a meal – by 10 am on relevant day.
•If you want a picnic lunch eg to take to the outer islands, please let Tutty know the night before.
•Typical main meal is fish, egg or chicken with vegetables and rice/noodles – veggies please make their preferences known beforehand.
•Breakfast: depending on numbr of guests this served either on your verandha table or 'buffet style' in the dining room: typically fruit, bread (toast it yourself)/fried banana/buns, spreads, do-it-yourself tea/coffee and egg.

If you want to eat on a meal by meal basis please tell Tutty on arrival. Prices are;

•Breakfast: Rp 35,000
•Lunch: Rp 50'000
•Dinner: Rp 50,000
( 3 times Meal Rp 135'000 )

Drinks

•Bir Anker 25,000/small can - and 45,000/big can
•Bir Bintang 25,000/can (when available)
•Sprite 10,000/can
•Coke 10,000/can
•Anggurh tua 50,000/bottle ('old wine', which british maiden aunts will recognize as Wincarnis, when available and desperate)
Please ask staff and they will serve you. Pay either in cash or by signing a 'chit' (which will be added to your bill).
•As staff start the day early/need to get to bed, we have a 'last orders' policy at about 9.30 pm – stock up then for later
•The dining room adjoins bedrooms, so please respect the occupants need for a bit of peace and quiet (or buy them a drink).
•We only have one fridge so afraid we can't chill guests' own beer.
•You're on your own for sopi – try the women's cooperative.
ch Bungalows) site is more up todate than that on our own Wordpress site (which we are having difficulty editing).